Yes, we are open for business! To ensure the health and safety of our guests and staff we are continuing to operate at a reduced capacity. Please take note of a few changes we've put in place to help maintain Washington State COVID-19 protocols. Upon arrival for your scheduled appointment please remain in your car and text us at: 360-621-7957. We will let you know when it is safe to meet us at the front door for entry. This temporary number is only for appointment check-in, to schedule your appointments please continue to use our main salon line. We will continue to use this check-in method while our indoor seating area is closed for social distancing. As always we thank you for your cooperation. If you have any questions about our products, services or safety protocols, please feel free to email or call us-we're happy to help!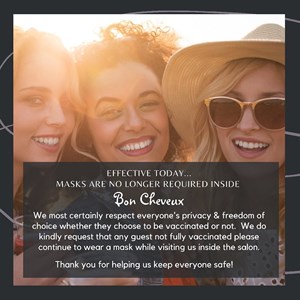 Effective July 1, 2021…Masks are NO longer required inside Bon Cheveux.
While we most certainly respect everyone's privacy and freedom of choice whether they choose to become vaccinated or not…We DO kindly request that any guest not yet fully vaccinated, please continue to wear a mask while visiting us inside the salon. Please also note, if you are in a high risk home and would be more comfortable with your stylist also wearing a mask please call us before your next scheduled appointment 360-779-3993.
Thank you for helping us ease into this next phase while we do our best to keep everyone safe!